Onboard Dynamics Launches Mobile Natural Gas Compressor, Strategic Alliance
Thursday, January 11th, 2018
ONAMI portfolio company Onboard Dynamics Announces Launch of Mobile Natural Gas Compressor and Strategic Cooperation Agreement with Linamar Corporation Volume commercial production of new GoFloTM CNG-80 compressor planned for 2018.
: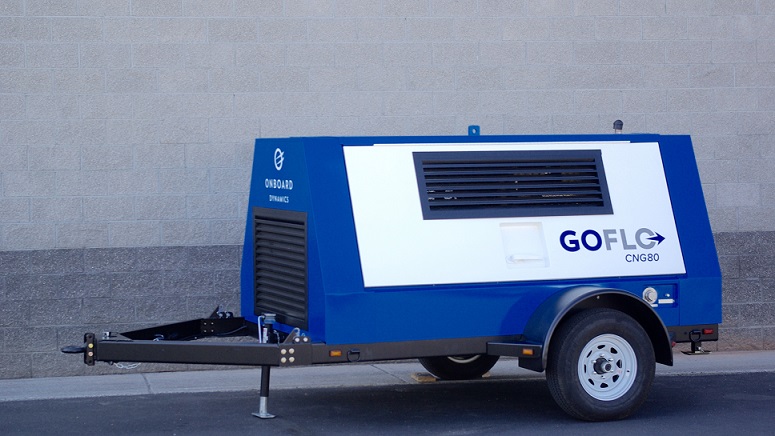 GoFlo(TM) CNG-80 natural-gas-powered compressor
BEND, Ore. – January 11, 2018 – Onboard Dynamics (ObDI), an innovator in alternative refueling technologies, today announced the launch of its GoFloTM CNG-80 mobile natural gas compressor for commercial use. To meet the anticipated worldwide demand, ObDI has formed a strategic business relationship with Linamar Corporation, a diversified global manufacturing company, to provide expanded capabilities as the exclusive manufacturer of the GoFlo product.
"We believe the lower cost and flexibility of our mobile natural gas compressor will greatly increase the attractiveness of operating vehicles, especially trucks and buses, on clean, abundant, inexpensive domestic natural gas," said Rita Hansen, CEO of Onboard Dynamics. "Because it is self-powered, the GoFlo compressor provides cost saving and new capabilities to the CNG industry."
The compression capacity of the GoFlo CNG-80 compressor makes it cost-effective for smaller fleets of compressed natural gas (CNG) vehicles, as well as for the initial deployment of CNG vehicles in larger fleets. Because of the compressor's modular design, fleet operators can expand their CNG vehicle inventory by adding GoFlo units as demand increases, without needing costly electrical power upgrades. The GoFlo compressor is also easy to relocate in the event that a CNG fleet needs to be redeployed, and the unit can serve as a backup to dedicated CNG refueling stations. In addition, freedom from electricity strengthens the operating reliability of CNG fleets in the event of a natural disaster.
With the support of the U.S. Department of Energy ARPA-E program, the technology on which the GoFlo CNG-80 system is based has been under development for nearly four years. A limited number of GoFlo CNG-80 systems will be available for delivery the second quarter of 2018 before production ramps up the second half of the year.
"Linamar's manufacturing capabilities, commercialization expertise, and customer relationships are invaluable to our efforts at Onboard Dynamics," said Hansen. "With its technical know-how rooted in the expertise of McLaren Engineering, the Linamar team has already sped up the timeline for achieving necessary volume capability."
About Onboard Dynamics, Inc.
Onboard Dynamics, Inc. seeks to lower fuel costs and carbon emissions by removing barriers to driving natural gas-powered vehicles. Its product line integrates natural gas compression into automotive engines, allowing cost-effective compression of natural gas from any low pressure supply line or renewable natural gas source. Founded in 2013, Onboard Dynamics is based in Bend, Oregon. Several patents covering the company's innovative technologies are being pursued.
About Linamar Corporation
Linamar Corporation (TSX:LNR) is a diversified global manufacturing company of highly engineered products powering vehicles, motion, work and lives. The Company is made up of 2 operating segments – the Powertrain/Driveline segment and the Industrial segment, which are further divided into 5 operating groups – Machining & Assembly, Light Metal Casting, Forging, Skyjack and Agriculture, all world leaders in the design, development and production of highly engineered products. The Company's Machining & Assembly, Light Metal Casting and Forging operating groups focus on precision metallic components, modules and systems for powertrain, driveline and body systems designed for global electrified and traditionally powered vehicle and industrial markets. The Company's Skyjack and Agriculture operating groups are noted for their innovative, high quality mobile industrial equipment, notably its class-leading aerial work platforms, telehandlers and agricultural equipment. With more than 25,700 employees in 59 manufacturing locations, 6 R&D centers and 21 sales offices in 17 countries in North and South America, Europe and Asia, Linamar generated sales of $6.0 billion in 2016. For more information about Linamar Corporation and its industry leading products and services, visit www.linamar.com or follow the company on Twitter at @LinamarCorp.