Pellucere Technologies To Begin Full-Scale Deployment of MoreSun product
Tuesday, February 26th, 2019
Manufacturing operations in Oregon, following investment from Energy Innovation Capital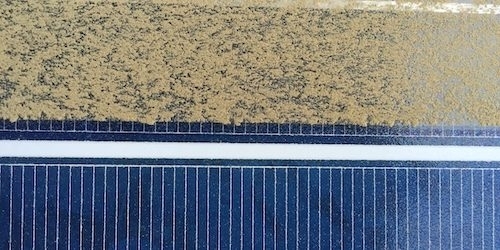 Anti-Reflective and anti-soiling technology improves solar panel efficiency
PV Magazine reported that Pellucere Technologies (formerly known as CSD Nano, Inc.) announced that it has secured a major investment from Energy Innovation Capital. The investment enables the beginning of "full-scale commercial deployment" of MoreSun, an anti-reflective and anti-soiling coating. The company says their process adds a 140 nm thick silica structure (above image) to the glass. The layer can be added both in the field and in the factory. The company says the fundamental benefit is their creation of a gradual transition from air to glass which reduces angles of incidence, allowing about 8% of formerly lost light to have a chance of being captured. Pellucere posits most anti-reflective coatings work in the same manner, however, MoreSun is just plain better.
In addition, John DeVos has taken the position of COO, Paul Ahrens will fill the CTO role at the company. All R&D and manufacturing operations will remain in Corvallis, Oregon. MoreSun was developed at Oregon State University, with support from the National Science Foundation, the Oregon Nanoscience and Microtechnologies Institute (ONAMI) and VertueLab.
Read the full article in PV Magazine here.