Energy Storage Systems raises $13M Series B, plans Wilsonville factory automation
Wednesday, December 13th, 2017
ONAMI gap fund portfolio company Energy Storage Systems, Inc. (ESS) has closed a $13M series B capital round led by BASF and will use proceeds of raise to expand production and automation at their Wilsonville, OR factory.
: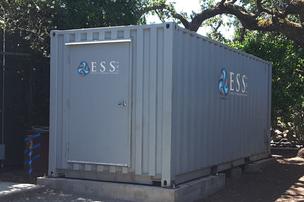 The Iron Flow Battery - green storage for clean energy
Established in 2011, ESS Inc. manufactures low-cost, long-duration all-iron redox flow batteries for commercial and utility-scale energy storage applications requiring 4+ hours of flexible energy capacity. Its product, Energy Warehouse™, uses iron, salt, and water for the electrolyte, and delivers an environmentally safe, long-life energy storage solution for the world's renewable energy infrastructure.
For further information on the series B financing see the press release on the ESS website.